Robotics
What's New in Robotics? 06.04.2023
The news brief for this week sees a revolution in new-age logistics, where many technical tasks are dwindling fast while others arrive on the fly; like a combination of AR, VR, 5G, and advanced imaging for industries that interact with simulation, predictive maintenance, building management, remote operations, and advanced robotics…all in one go! We also look at three developers and their new-age answers to the old-world woes of moving pallets.
A revolution in a new era of logistics
In recent years, five things have happened in robot-based logistics automation that are hard NOT to notice: 1. Robots and cobots take up less space; 2. more affordable; 3. packaging is faster; 4. work safety improvement; and, 5. free time for the employee to perform other value added tasks (or be terminated).
This is the opinion of Brad Arrington, chief editor of Packaging Strategies and Flexible Packaging, in his article entitled Technology Revolutionized Cardboard and Box Packaging.
The list of five reasons why things happen in logistics is there if you dig them up. Arrington's excavations uncovered such things as improvements in "machine vision, tooltip technology, artificial intelligence (AI), machine learning, durability, and security."
Additionally, robots and cobots have become easier to program and operate, reducing the level of technical skill required for successful deployments. What's changing for employees, however, is that they need to acquire new skills for predictive analytics driven by artificial intelligence, machine learning, and advanced computing.
Use of AR (augmented reality) and VR (virtual reality) technology (with 5G mobile) in industrial applications also grew significantly, helping manufacturers, logistics operators and other organizations to increase productivity, reduce costs and become more efficient and competitive.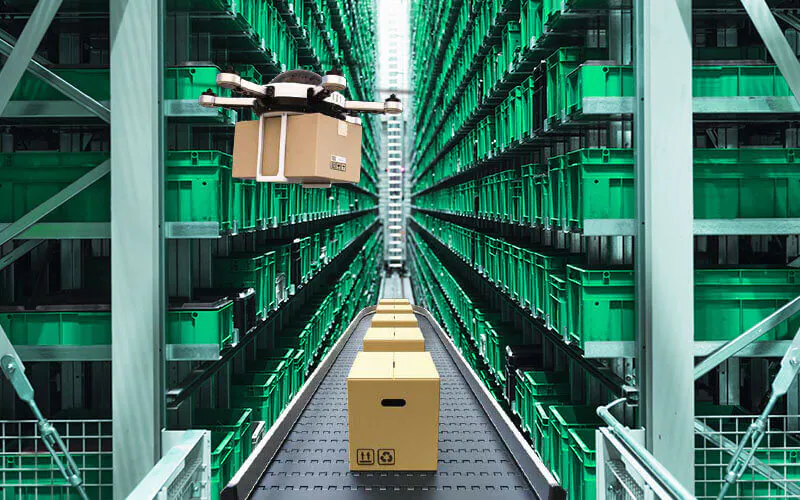 So, as employees see their skills operating robots and cobots diminishing, new skills are emerging and needed to incorporate advanced AR, VR, and imaging for the industry to interact with a variety of assets and workers using digital twin. Currently, digital twin applications include simulationpredictive maintenance, building managementremote surgery, and advanced robotics.
Professor Karthik Ramani from Purdue University is working with manufacturers to create virtual factories. They can explore labor-saving technology using AR before deploying it in a factory or warehouse setting. "AR allows users to see exactly where the robot is going just by looking at their surroundings," said Ramani. "There is no need to translate locations from a map overlay into real-world environments, which might incur additional cognitive load, because the work is already done for them."
All of these new skills help factory and warehouse workers to interact with robots and cobots. In turn, they can determine whether robots can help increase productivity. They can also virtually experiment with floor arrangements to maximize productivity.
Addington pointed to Peregrine as an example of a "high-speed, vision-guided, robotic top-load carton system. With a small footprint one-third the size of a traditional top-loading carton and ends, Peregrine puts the forming, loading, and closing of cartons in-line so no real estate is wasted, saving valuable floor space for food manufacturers."
In exchange for increased productivity and robots that are easier to program, deploy and operate, new skill sets for employees will leverage AR, robots and cobots with a vision to be one of the key innovations that take efficiency to the next level.
New drive for old pallets
The Dear Shipping Pallet has not changed much of its appearance in over seventy years. However, once they are loaded and need to be moved, all new machines are ready to move pallets faster, cheaper and more productively than ever before.
Previously, with only a pallet jack as an auxiliary tool, pallets moved slowly, sometimes taking an hour or more to unload the trailer. Over the years, docks have become a focal point for warehouse automation, and incredible robotics has been created to alleviate some of the bottlenecks.
Three new entries appeared in the recently concluded event ProMat 2023 in Chicago.
Big Joe Palette Drive
With a history of materials handling spanning seventy years, Big Joe Lift Trunks (now majority owned by China EP Equipment), came out with the newly developed autonomous Big Joe Palette Drivenew mobile robots—user-directed or fully autonomous.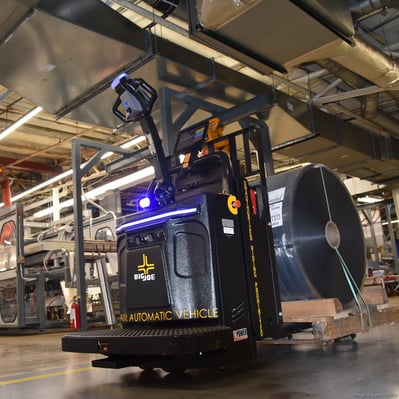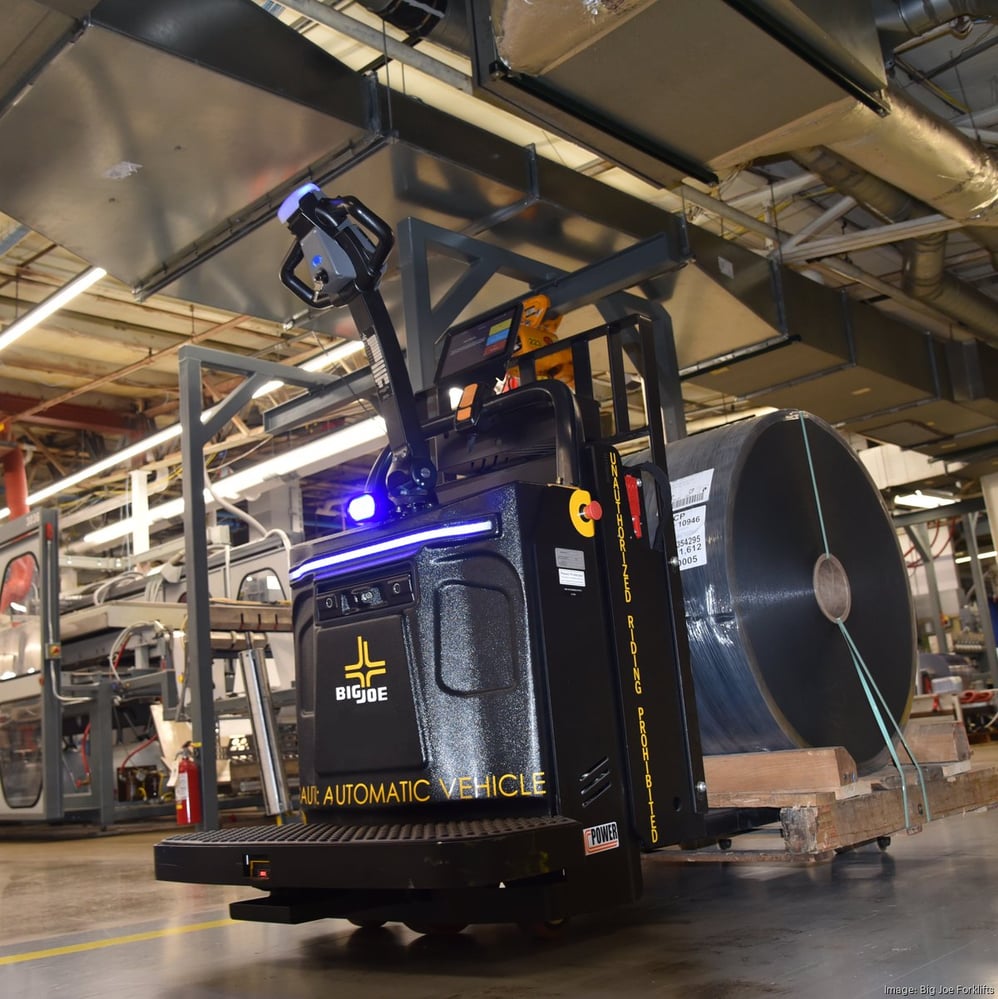 Like many logistics robots developed in recent years, there always seems to be an AI component required for their creation. For Pallet Move, that is Thoro. ai and its self-driving technology.
Developed in partnership with Thoro.aIBig Joe Pallet Mover is an easy-to-implement autonomous solution for floor-to-floor pallet transport and delivery.
Basically, Pallet Mover is an automatic pallet jack with self-driving capabilities. The user, from the intuitive tablet interface, instructs Pallet Mover where to go. And off you go! "Pallet Mover can transport up to 4,400 pounds. material at speeds up to 2.8 mph and can operate continuously for up to 10 hours."
"The magic to that is our user-directed approach to automation," said Bill Pedriana, Big Joe's chief marketing officer, "which is, in essence, focused on empowering workers and eliminating the need for complex system integrations."
The new Big Joe Pallet Mover functions like a conventional lift truck, but features LiDAR, and a camera system to independently transport and drop pallets to site after the operator has loaded them and selected a mission.
The self-driving technology component for Big Joe is likened to a "productivity power multiplier" that allows workers to focus on higher-value tasks.
ForwardX Robotics Apex C1500-L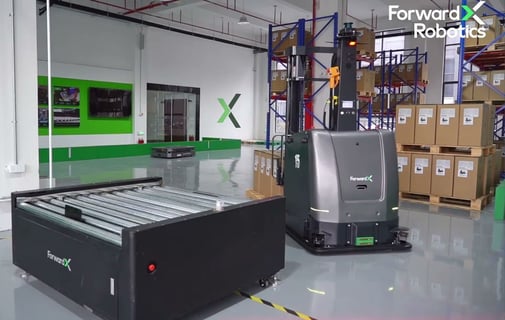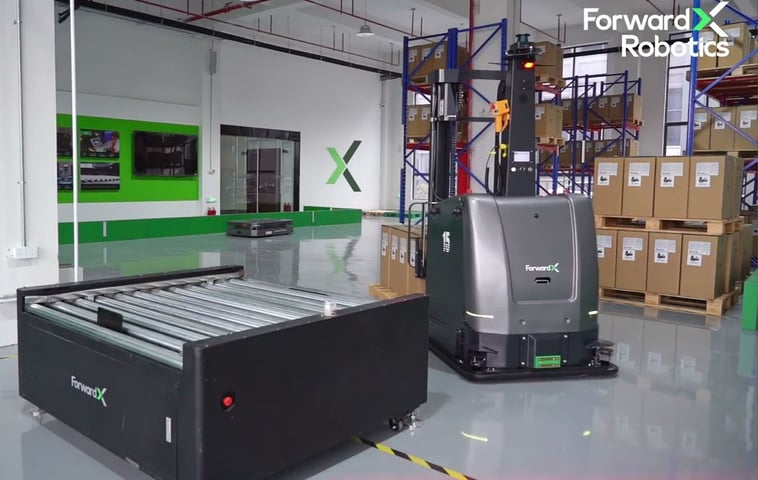 Forklift for all seasons? The new one, forwardX The Apex C1500-L autonomous forklift was designed with multiple workflows in mind, including receiving, stock-holding, replenishment, cross-zone handling, conveyor docking, and exit workflows.
Flexibility, and greater autonomy, are hallmarks of this new offering, which was also showcased at ProMat2023.
Nicolas Chee CEO of ForwardX Robotics, says that the new Apex C1500-L fills in an indispensable place in the company's product range as it has a payload capacity of 3,300 lbs., and ensures ±2.3 in pallet placement precision. "Forklifts can identify the angle at which pallets are placed and adjust independently in real-time to complete their task even when pallets are misplaced."
Seeger
Seeger bringing the famous Palion AMR to ProMat2023; it's the fleet, according to Seegrid, which has been "driving almost 10 million miles autonomous in the customer's production environment."
For the ProMat, Seegrid has several extended capabilities built into the Palion Lift and Palion Tow Tractor: The Lift and Tow Tractor can now "work in combination to load and unload wagons without the need for human intervention," in what was previously a difficult, time consuming and workflow labor intensive