The worldwide stock of operational robots reached a new record of around 3.5 million units – an installation value of around 15.7 billion USD. The International Robotics Federation analyzed the top 5 trends shaping robotics and automation in 2023.
"Robots play a fundamental role in securing the changing demands of manufacturers around the world," said Marina Bill, President of the International Robotics Federation. "New trends in robotics are attracting users from small companies to global OEMs."
1 – Energy Efficiency
Energy efficiency is the key to increasing company competitiveness amid rising energy costs. The adoption of robotics helps in many ways to lower energy consumption in manufacturing. Compared to traditional assembly lines, considerable energy savings can be achieved through reduced heating. At the same time, the robots work at high speed thereby increasing the production rate so that manufacturing becomes more time and energy efficient.
Today's robots are designed to consume less energy, which leads to lower operating costs. To meet its production sustainability targets, the company uses industrial robots equipped with energy-saving technologies: the robot's controls are able to convert kinetic energy into electricity, for example, and feed it back into the electricity grid. This technology significantly reduces the energy required to run the robot. Another feature is an intelligent power saving mode that controls the robot's energy supply on demand throughout the working day. As industrial facilities need to monitor their energy consumption even today, such connected power sensors will likely become the industry standard for robotics solutions.
2 – Reshoring
Resilience has been an important driver of reshoring across a variety of industries: Auto manufacturers, for example, invest heavily in short supply lines to bring processes closer to their customers. These manufacturers are using robotic automation to cost-effectively produce powerful batteries in large quantities to support their electric vehicle projects. This investment makes shipping heavy batteries redundant. This is important because an increasing number of logistics companies are refusing to ship batteries for security reasons.
Relocating microchip production back to the US and Europe is another reshoring trend. Since most industrial products today require semiconductor chips to function, their close supply to customers is critical. Robots play an important role in chip manufacturing, as they meet extreme precision requirements. Custom-designed robots automate silicon wafer manufacturing, take over cleaning and cleaning duties, or test integrated circuits. Examples of recent reshoring are Intel's new chip factory in Ohio or the recently announced chip factory in Germany's Saarland region run by chip maker Wolfspeed and automotive supplier ZF.
3 – Robots are easier to use
Robot programming has become easier and more accessible to non-experts. Providers of software-based automation platforms support enterprises, enabling users to manage industrial robots without prior programming experience. Original equipment manufacturers work hand-in-hand with low-code or even no-code technology partners that allow users of all skill levels to program robots.
The easy-to-use software coupled with an intuitive user experience replaces extensive robotics programming and opens up new robotics automation opportunities: Startup software enters this market with customized solutions for the needs of small and medium enterprises. For example: traditional heavy industrial robots may be equipped with new sensors and software that enables collaborative setup operations. This makes it easier for workers to adapt the machine for different tasks. As such, enterprises will get the best of both worlds: powerful, precise industrial robotic hardware and state-of-the-art cobot software.
The easy-to-use programming interface, which allows customers to customize their own robots, is also driving the emergence of a new segment of low-cost robotics. Many new customers reacted to the pandemic in 2020 by trying robotic solutions. Robot suppliers recognize this demand: Easy setup and installation, for example, with pre-configured software to handle grippers, sensors, or controllers supports robot deployment at a lower cost. Such robots are often sold via web stores and program routines for various applications can be downloaded from app stores.
4 – Artificial Intelligence (AI) and digital automation
Driven by advances in digital technology, robot suppliers and system integrators are offering new applications and enhancing existing ones in terms of speed and quality. Connected robots transform manufacturing. Robots will increasingly operate as part of a connected digital ecosystem: Cloud Computing, Big Data Analytics or 5G mobile networks provide the technology base for optimal performance. The 5G standard will enable fully digital production, rendering cables on the shop floor obsolete.
Artificial Intelligence (AI) has great potential for robotics, enabling a wide range of benefits in manufacturing. The main goal of using AI in robotics is to better manage variability and uncertainty in the external environment, both in real-time and offline. This makes AI-enabled machine learning play an increasing role in software offerings that benefit running systems, for example with optimized processes, predictive maintenance, or vision-based grips.
This technology helps manufacturers, logistics providers, and retailers deal with frequently changing products, orders, and stocks. The greater the variability and uncertainty of the environment, the more likely it is that AI algorithms will provide cost-effective and fast solutions – for example, for a manufacturer or wholesaler dealing with millions of different products that change regularly. AI is also useful in environments where mobile robots need to distinguish objects or people they encounter and respond differently.
5 – Second life for industrial robots
Since industrial robots have a service life of up to thirty years, new technological equipment is a great opportunity to give old robots a "second life". Industrial robot manufacturers such as ABB, Fanuc, KUKA or Yaskawa run dedicated repair centers close to their customers to refurbish or upgrade used units in a resource efficient way. This get-to-repair strategy for robot manufacturers and their customers also saves costs and resources. To offer long-term improvements to customers is an important contribution to the circular economy.
---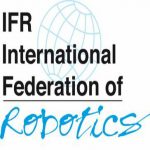 The International Federation of Robotics (IFR) connects robotics worldwide. We aim to promote the positive benefits of robots for productivity, competitiveness, economic growth, and quality of work and life.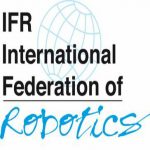 The International Federation of Robotics (IFR) connects robotics worldwide. We aim to promote the positive benefits of robots for productivity, competitiveness, economic growth, and quality of work and life.