Robotics
What's New in Robotics? 21.04.2023
In summary for the week's news, take a look at the week's biggest announcement: Walmart's recent blockbuster 5-year plan to go fully robotics and automation (April 5). By 2026, Walmart claims that 65% of its retail operations will be fully serviced by automation. Winning robotics vendors in the Walmart package: Symbotic, GreyOrange and Alert Innovation.
Walmart Goes All-In for Robots!
Huge boon for the entire robotics industry
On Walmart Investment Community Meeting April 5ththe industrial robotic giant opens the conference, takes a large white block with blue letters on it from a palette, and then proceeds to spell out Walmart, block by block, which is a surefire clue to where the meeting agenda is headed.
Doug McMillon, president of Walmart, wasted no time in announcing to his audience: "We have methodically built a next-generation supply chain and are now ready to roll out its 5 year plan."
Walmart is ended up going all-in for the robotsand the competition is sure to catch up soon, as Walmart itself did after watching Amazon's robots make it the industry leader.
If robots are good for Amazon, they must be good for the rest of us, seems the thinking from Walmart. Just need to find the right combination. Since 2014, Walmart has been experimenting with robotsand has now fully committed to robot-driven automation.
Sales of robots and logistics systems, mobile, stationary or otherwise, which have been rapidly tracking upwards over the past three years, may skyrocket given Walmart's recent bet on robots.
In giant Distribution center in Brooksville, Florida, about 50 miles from Tampa, Walmart has begun rolling out its parent blueprints for operations over the next five years (2023-2028).
The 5 year plan shows Walmart finally going for automation and robots, and Brooksville DC is the poster child for where that plan takes Walmart. Brooksville is about the size of 24 football fields, which is 1.4 million square feet (130,000 square meters), of which 200,000 square feet are currently fully automated, and the remaining 800,000 square feet will follow soon.
With the final 800,000 square foot expansion, explains David Guggina, executive vice president of Walmart's supply chain, throughput of goods will double.
Double, double!? Yes, and sure to make every robot seller grin from ear to ear, for sales to follow.
Where once workers unloaded goods manually from truck trailers, now autonomous forklifts do most of the work. Warehouse worker Jose Molina agreed, saying the old system was physically demanding and filled with confusing paperwork. Molina adds that now that her shift is over, she doesn't come home completely exhausted. He and his crew only need to step in when automation needs help… which is rare. All of which make the work day easier.
The killer stat was released in a Walmart announcement: "In three years, unit cost of movable goods will decrease by 20% because warehouse robots play a bigger role in expediting the delivery of goods to customers."
As a sub-headline on Digital Commerce 360 ​​read: "At the end of 2023about a third of Walmart stores will be served by distribution centers where warehouse robots do most of the work."
That's only eight months off!
Symbotic: Walmart automation vendor
According to the blueprints of Walmart, based in Massachusetts Symbolic, which has automated Walmart's 25 distribution centers, will acquire the retailer's 42 distribution centers in the US. A process that Symbotic reports will take eight years to complete.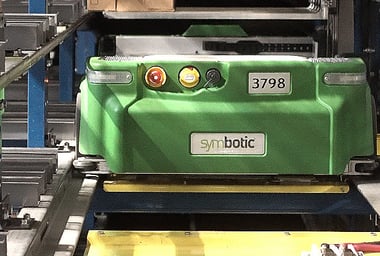 Symbotic, previously owned by billionaire Rick Cohen, already has a mega-supplier C&S Wholesale Grocers Inc., the country's largest wholesale grocery distributor by sales, now (as of 2022) a public company through the completion of a business combination with SVF Investment Company sponsored by SoftBank.
"Our vision at Symbotic has always been to reinvent the supply chain with artificial intelligence and robotics – turning distribution networks into strategic assets," said Cohen, who currently serves as chairman of the board of directors and president of Symbotic.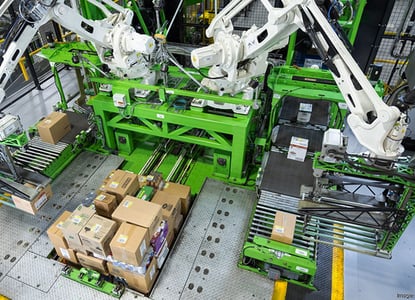 "We believe Symbotic is at the forefront of more than A $350 billion market opportunity to reinvent warehouse automation and reshaping global supply chains," said Vikas J. Parekh, managing partner for SoftBank Investment Advisers and member of Symbotic's board of directors.
Walmart recently revealed just that it owns Symbotic stock; in a regulatory filing Walmart stated that it held 15 million Class A shares as of June 21, 2022.
Exactly how Symbotic will drive savings for Walmart's blueprint of 42 warehouses and distribution centers is yet to be seen, however, major indications from Symbotic show food retailers and grocers cut distribution center labor costs by 80% and operate warehouses by 25% to 40% smaller .
In an industry with very thin margins (1% to 2%), such savings are staggering.
Walmart (Alberta, Canada) is tapping GreyOrange for DC in Calgary
Capable of storing 500,000 items to fulfill in-home and in-store pickup orders, and able to ship 20 million items annually from facilities to customers of Walmart in Western Canada, the giant retailer cut the ribbon at a Walmart warehouse (Alberta, Canada). just outside Calgary is 430,000 square feet and cost over $118 million to build.
Says Walmart: "This development is part of Walmart Canada's $3.5 billion investment to make the online and in-store shopping experience simpler, faster, and more convenient for sustainable growth in Alberta and across Canada."
Like 42 other warehouses in the US, the Calgary facility will be fully automated, but not Symbotic. This time, "robotic technology of GreyOrange will be used."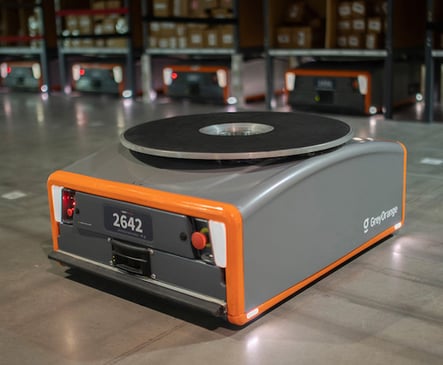 GreyOrangestill calling itself a startup despite being founded in 2009, in India by students Samay Kohli and Akash Gupta, now showing $142 million VC money, net worth north of $1.7 billion, worldwide offices, world headquarters in Altlanta, Georgia since 2018 , with its technology equipment in the warehouse of 38 customers, according to India Economic Time. Those are not startups!
One of the first of a similar class of KIVAs, GreyOrange has continued to expand on its own, and now, 14 years later, is the vendor of choice for Walmart's Calgary DC. As of October 2021, sister company Walmart Sam's Club implements GreyOrange technology in an innovation-focused fulfillment center in Perris, California.
Calgary DC will leverage the recently released GreyOrange API (2023) enabling "any vendor robotic solution to seamlessly connected to GreyMatter's fulfillment orchestration platformgiving customers the freedom to choose the technology that suits their warehouse environment."
The GreyMatter group includes vendors such as HAI Robotics, Fetch Robotics (now Zebra), Mushiny Intelligence, Technica International, Vicarious and Youi Robotics, among others, said GreyOrange CEO and co-founder Samay Kohli.
Walmart acquires Alphabots from Alert Innovation
Last October (2022), Walmart acquired a robotics company, Alert Innovation (headquartered in Andover, MA), which is no stranger to Walmart. Alert and its e-commerce Alphabots have a history of working in the company's stores. Mainly working on multi-year pilot of the company's robot shop order fulfillment technology.
Alphabot will continue to automate Walmart's order process, which will now expand to serve 4,700 stores. With the deal, Alert strengthens its already close relationship with Walmart after developing Alphabot technology specifically for retailers.
The Alphabot Alert system operates in a 20,000 square foot space, using autonomous cart to pick up groceries, including chilled and frozen foods. The cart is able to move both horizontally and vertically.
Two things immediately emerge from this blockbuster announcement: 1. Retailers don't have to be developers of their own robot-based automation (like Amazon) to succeed; 2. Large customers such as Walmart will drive continued interoperability across the robotics industry. Similar to what happened in the computer industry decades ago, apparently proprietary systems kaput!