Robotics
European Robotics Forum 2023 a success!
Earlier this spring, Europe's largest robotics event – ​​the European Robotics Forum 2023 (ERF23) – was held in Odense, Denmark. As one of the most influential gatherings of the robotics community in Europe, the event brings together researchers, engineers, managers, entrepreneurs, businesses and public funding officials to explore the latest trends and themes in robotics. With over 1100 registered exhibitors and 65 sponsors and exhibitors, it is 'the largest ERF in recorded history – in all parameters', said the organisers.
During the four-day forum, DIH robotics network RI4EU, together with agROBOfood and Rima Network, hosted a booth at the event, where they showcased various robotics initiatives. It also includes the TRINITY Robotics DIH, agROBOfood, DIH-HERO, and DIH² robotics networks.
One of the highlights of the conference for RI4EU was their workshop –"Supporting SMEs in Bringing Robotics Solutions to Market". The aim is to host interactive discussions on how a network of Robotics Digital Innovation Hubs (DIHs) can create a greater impact for SMEs and facilitate industry-wide uptake and integration of robotics technologies. The question arises in the context where a group of 5 EU-funded robotics projects – the DIH robotics network (agROBOfood, Rima Network, TRINITY, DIH-HERO and DIH²) – under the umbrella RI4EU, have provided EUR 40 million in financial support and additional services to more than 180 European robotics SMEs, to help them bring their solutions to market. So now, as these projects come to an end after a period of 4 years, it is only natural to discuss the impact they have created, the challenges and the lessons learned.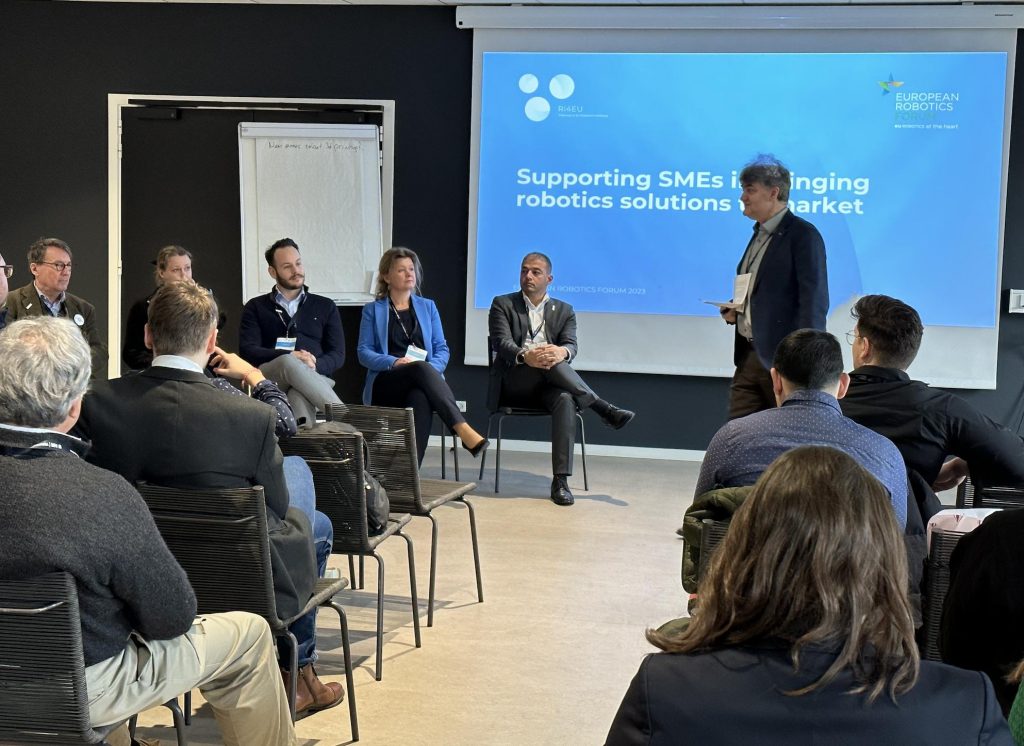 This session presents five expert speakers: Minna LanzTRINITY Robotics DIH Coordinator, Christophe LerouxRima Network Coordinator, Françoise SiepelDIH-HERO Coordinator, Muhammad AliDIH² Coordinator, and Tsampikos KounalakisRobotics Researcher-agROBOfood. Butter MauriceRI4EU Gateway to EU Robotics Initiatives, moderates, ensures productive and interesting conversations.
Building a trusting relationship is key
There is great potential for robotic applications in industry, for example, to increase productivity, improve safety, etc. but the total size of the robotics market is still negligible in relation to the overall market size. Feedback received during the workshop indicated that one of the main problems robotic SMBs face is the effort required to develop a Proof of concept and run tests. In line with the same reasons, companies agree that the 4 most important services they need from DIH are:
Technology support, to provide the technology infrastructure and expertise to develop innovation.
Ecosystem services, aims to provide support to create a dynamic ecosystem.
Business support, to provide more single customer support in developing innovation-based businesses
Educational skills and support, to improve expertise, skills and human resources with a network of partners.
However, there is a common key element that companies recognize has a major impact on their activities: trusted business connections facilitated by DIH. Building an interconnected community of experts in many areas of robotics requires strategic planning, resources and determination. So in this sense, the DIH network can provide opportunities that cannot be found anywhere else. In addition, looking for new regional network connections, trying to connect value chains, etc. can be a daunting and time-consuming task, but then the DIH network really brings added value through their connections to other projects or professionals within a niche market, providing the robotics ecosystem with an entire list of contacts to seek guidance from or do business with.
Long term growth
But now, 5 robotics projects, agROBOfood, Rima Network, TRINITY, DIH-HERO, and DIH², are coming to an end, as they have received funding from the European Union's Horizon 2020 so far. So what does the future hold for this DIH network? Will they cease their activities once the EU funding ends or will they continue to provide their services in the future? When asked these questions during the workshop, all networks confirmed that they 'will live on', as one speaker put it. They are an established network in the field of robotics and although their new business model is yet to be formalized, the DIH network plans to grow in the future.
So far, the Rima Network has made its announcement: now transforming into the RIMA Alliance, to continue providing services and leveraging all good practices in just one place, to continue working towards the use of robotics in inspection and maintenance. As for the other 4 networks, follow their pages and the RI4EU network to hear the latest news and subscribe to the newsletter at their website.
Through participating in ERF23, the RI4EU team can learn from experts in their fields, make new connections, and promote their work to a wider audience. By partnering with the innovation action network/DIH, they can showcase their initiatives and inspire others to join them on their mission to accelerate innovation in robotics.
---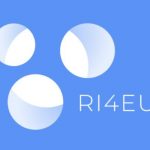 RI4EU aims to accelerate innovation in robotics technologies in agile production, infrastructure inspection and maintenance, healthcare, and food agriculture.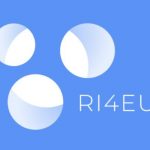 RI4EU aims to accelerate innovation in robotics technologies in agile production, infrastructure inspection and maintenance, healthcare, and food agriculture.