Robotics
Robots Blog | The world's most isolated robot automates reforestation at Amazon
A pilot project by ABB Robotics and US nonprofit Junglekeepers demonstrates the role of cloud technology in faster, more efficient and scalable reforestation.
ABB Robotics supports forest rangers in their efforts to protect approximately 22,000 hectares of the Amazon rainforest and reverse deforestation. In the first demonstration of its kind, ABB's YuMi collaborative robot (cobot) automates the work of planting at a research and test site in the middle of a forest. In doing so, he greatly accelerated the process, allowing Rangers volunteers to focus their valuable time and resources on more meaningful work.
Using ABB's RobotStudio Cloud technology, ABB experts simulated, optimized, and realized programming for YuMi's operations in the rainforest, 12,000 kilometers away from Västerås in Sweden, enabling the world's most remote robotic operations.
The ABB and Junglekeepers collaboration shows that robotics and cloud technologies can play a critical role in tackling deforestation. The latter is one of the main contributors to climate change," said Sami Atiya, head of ABB's Factory Robotics & Automation business. "Our pilot project with the world's most isolated robotic deployment enables the automation of highly repetitive tasks. This gives rangers more time to do a more effective job in the rainforest and better protect the land they live on."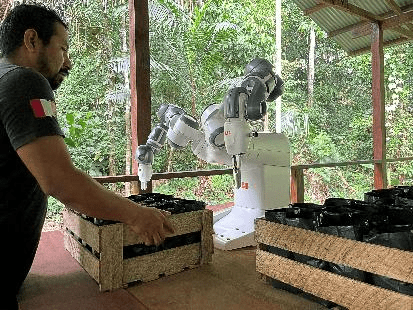 The YuMi cobot was installed in a research and testing laboratory in a remote region of the Peruvian Amazon to automate the critical tasks involved in growing seeds – previously a purely manual activity. The cobot digs a hole in the ground, places the seed, compacts the soil over it, and marks the spot with a colored label. Using YuMi, Junglekeepers can replant an area the size of two football fields every day. Automation allows Junglekeepers volunteers to focus their valuable time and resources on more impactful work. This includes, for example, patrols to deter illegal loggers, educating local people about rainforest preservation and planting saplings.
Installing a fully remote, autonomous cobot solves another problem: finding people who want to work in these remote forest locations for longer periods of time. After the initial installation, YuMi can do its work on its own and only needs to undergo troubleshooting if needed.
"We have lost 20 percent of the entire Amazon rainforest so far, and without the use of technology, we cannot go further in conservation," said Moshin Kazmi, co-founder of Junglekeepers. "Having YuMi on site was a great way to introduce our rangers to a new way of working. This accelerates and expands our activities and advances our mission."
The destruction of the Amazon rainforest by human interventions such as deforestation and burning to free land for agriculture is contributing significantly to the devastating impacts of climate change. It is estimated that more than 870,000 km² of the Amazon rainforest has been cleared since 1985 – an area larger than France, Britain and Belgium combined.1 Because several billion trees have been destroyed, the region is warming rapidly.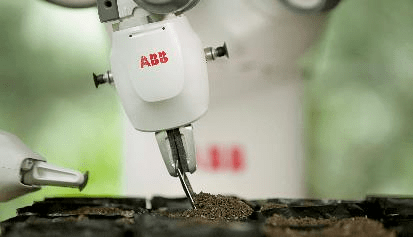 "The Amazon is in danger. To save it we must combine technology, science and local knowledge, otherwise it will be too late. Rainforests can be saved, but we need to bring all of these elements together to make a real difference," said Dennis del Castillo Torres, Research Director of Forest Management at the Peruvian Amazon Research Institute. "It is very important to combine cutting-edge technology and nature conservation. There are many technologies that we can use to preserve forests. These robots can speed up reforestation, but they must be used in a very targeted way. We should use it to speed up replanting in very deforested areas."
The pilot is powered by ABB's RobotStudio Cloud technology, which enables teams around the world to collaborate in real time. This innovative way of remote programming enables a new level of flexibility and instant optimization, increasing efficiency and robustness, and preventing wasted growing time. Backed by over 25 years of offline programming experience, RobotStudio offers industry-leading digital technologies and ensures a 99% match between simulation and reality. In this way, users can reduce the time required to test robotic solutions by up to 50 percent and completely avoid production interruptions.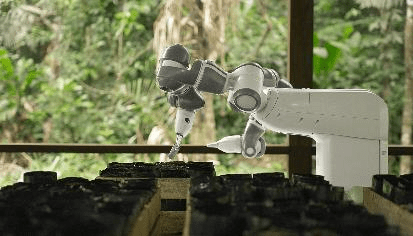 The ABB Robotics pilot project at Amazon supports the division's goal of contributing to sustainable transformation with intelligent robots and automation solutions, helping companies increase productivity, reduce waste and maximize efficiency. In 2022, ABB Robotics partners with the non-profit organization and global network Parley for the Oceans, which is working to stop plastic pollution and the destruction of the world's oceans. ABB's robots use additive 3D printing to generate personalized design objects from recycled Parley Ocean Plastic®.
At the request of the Junglekeepers, the pilot project with RobotStudio Cloud and YuMi will run in the rainforest for approximately six weeks (in May and June 2023). After completing the pilot program, ABB will look for ways to further support rangers. The company also wants to examine how its robotic solutions and cloud technologies can also significantly drive sustainable transformation.
similar posts