Cybersecurity
Improve Your Security WordPress Spam Protection With CleanTalk Anti-Spam
July 03, 2023Hacker NewsWebsite Security Tool
Every website owner or webmaster grapples with the problem of spam on their website forms. The volume of spam can be overwhelming so finding useful information in them can be very challenging. What makes this problem worse is that spam can fill your public pages, showing up in comments and reviews. You probably understand how this can damage your website's reputation, affect search results, overload your web server, and take your focus away from website development.
Website owners and webmasters need a solution to this problem. When choosing an anti-spam solution, the following requirements must be observed:
The solution should operate automatically, eliminating the need for manual spam checks.
It should provide a fast and efficient method of accuracy control.
It should be universal, protecting all website forms at the same time.
It should be easy and straightforward to install and set up.
It shouldn't require any additional steps from your visitors, ensuring they don't need to confirm they're humans, not bots.
CleanTalk Anti-Spam Solution
CleanTalk Anti-Spam is a cloud-based tool designed to block various types of spam that website administrators encounter every day. This includes spam in comments, contact forms, sign-ups, registrations, subscriptions, newsletters, and WooCommerce reviews and payments.
This solution provides the following benefits:
All calculations and decisions regarding spam are processed on a remote server, reducing the load on your web server thanks to cloud technology.
Service Dashboard provides detailed insight into website requests, equipping you with tools to manage service features. It clearly shows whether a request is spam.
Plugins can be easily installed and set up on any website in just a few minutes.
With this single solution, all forms on your website are protected.
Spam check is performed without disturbing your site visitors, requiring no action on their part.
Some important service features deserve separate mention:
SpamFireWall – This feature blocks the most active spam bots before they can visit your website.
Email Address Validation – This function verifies the authenticity of email addresses in real time.
Contact Data Encoding – This feature encodes the email address displayed on your public page, protecting it from being deciphered by bots.
Let's look at an example in WordPress
1) To install the plugin: Navigate to the WordPress Dashboard → Click 'Plugins', then 'Add New' → In the search field, type 'CleanTalk.'
2) Install the plugin and activate it. You will be automatically redirected to the plugin settings.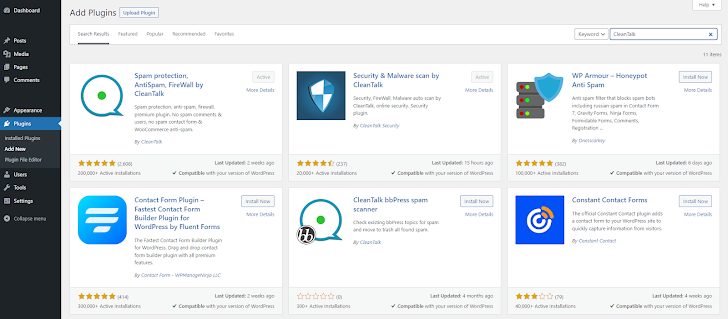 3) Click 'Get Access Key Automatically' and save the settings. At this point, a CleanTalk account will be created for you. Account credentials will be sent to your email.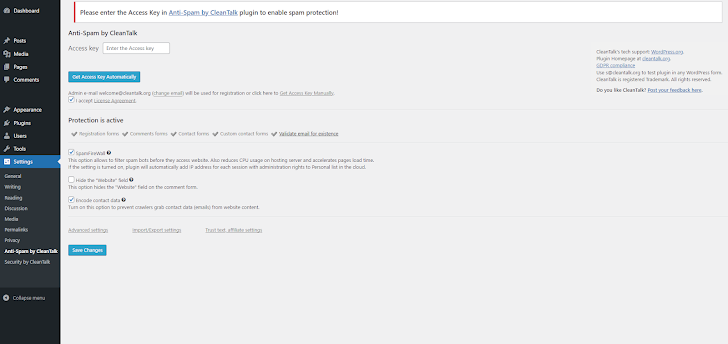 There he is! Your website now has spam protection. Any spam attempts will be blocked immediately.
Testing Protection on a Contact Form by WPForms as an Example
To test the form, open the website in a new Incognito tab. This is necessary because the plugin does not register actions performed by admins.
Navigate to the page containing the contact form and enter a test email address ( s@cleantalk.org ). Click the "Send" button to send data. If data is blocked, a corresponding message will appear.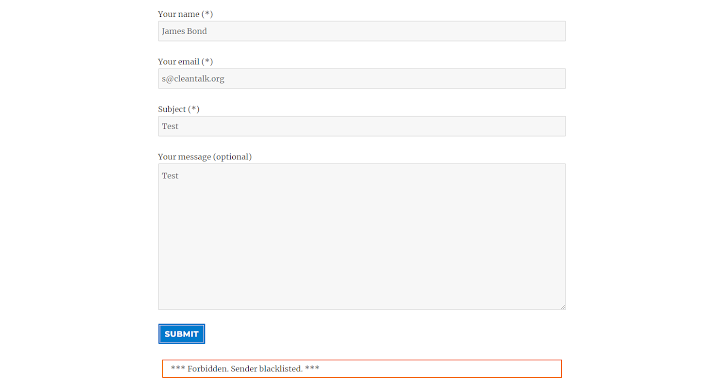 The CleanTalk plugin captures website requests made through contact forms and passes the collected data to the CleanTalk Cloud for processing. In the Cloud, a decision is made regarding "Spam/Not Spam" status. This state is then passed back to the plugin, which either passes the form data to the website's backend or blocks it. This request data is logged in your Anti-Spam Log on your service Dashboard.
To access your Anti-Spam Log, go directly to your Dashboard or open the plugin settings and click the "Click here to get Anti-Spam statistics" button.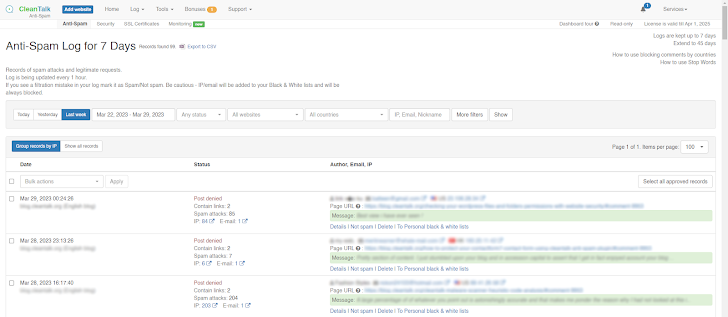 Service Dashboard Features
Anti-Spam Logs – This tool gives you insight into all website requests processed by CleanTalk Cloud, including their status and additional details.
Each request includes the following:
Status — Rejected or Approved
Request date and time
The sender's username, IP, and email address
Spam activity linked to this IP address and email
Email address validation results — Fake or Real

You can click "Details" below each request to access complete information.
This feature ensures that you never miss any data and allows you to monitor the accuracy of the filtering process. Another important feature of the CleanTalk plugin is that it captures data even when a visitor makes a typo or fails the built-in form validation, making the data available in your Anti-Spam Log.
The dashboard also allows you to:
Manage your protected website list.
Update your account settings.
View summary statistics.
Manage IP Private Lists, Emails, Stop-Words, Countries and Languages.
These features make our Anti-Spam Service a robust solution for spam protection and protecting your website from unwanted messages or requests.
Conclusion
A strong spam filter is essential for your website. CleanTalk Anti-Spam provides a one-week free trial, allowing you to verify its effectiveness at managing spam on your site. Services start at $12 per year, and unlimited website use is available for $25 per month. Instead of manually moderating and reviewing your messages, delegate this task to CleanTalk.